Yell-O-Glow Renews Lease and Expands with Additional 20,206 SF of Industrial Space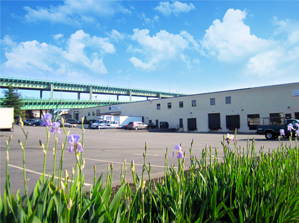 Combined Properties Inc, is pleased to announce that Yell-O-Glow Corporation recently renewed its lease at 21-25 Arlington Street in Chelsea for an additional 10 years. In doing so, Yell-O-Glow expanded its footprint from 61,526 SF to 81,733 SF.
A fourth-generation family-run business, Yell-O-Glow is a full-line food wholesaler specializing in Latin and International products, including bakery, beverage, dairy, frozen, grocery, meat, deli, produce, and seafood. Yell-O-Glow distributes directly to customers throughout New England, including wholesale distributors, supermarkets, grocery stores, and bodegas. Yell-O-Glow is also one of the largest independent banana and plantain processors in the United States.
"My grandfather, an immigrant from Greece, became intrigued with the health benefits of bananas during WWII and started selling fruit from the trunk of his car," said George Markos, co-owner of Yell-O-Glow. "My grandparents ran the business in a back bedroom of their small house. When they outgrew that, my uncle and father rented an abandoned warehouse and continued to grow the business."
The company has grown with each generation, and today Yell-O-Glow employs approximately 100+ people.
Combined Properties has owned this industrial building since 1986, when they purchased it from The Sweetheart Paper Products Company. Combined Properties invested over $5 million to give the industrial complex a complete overhaul. Today, seven clients including Yell-O-Glow, operate there successfully.
"We're thrilled that Yell-O-Glow, a local family- and community-focused company, has chosen to renew and expand their footprint at our largest Chelsea facility," said John Pereira, president of Combined Properties. "Hardware Products, HUB Food, and Steele Canvas Basket – the building's original tenants have been successful in this property for nearly 30 years.
Greg Regazzini, Vice President and Director of Leasing for Combined Properties, represented the landlord in this lease transaction.
This 250,000 square foot first-class industrial center is conveniently located adjacent to the Tobin Bridge. It offers direct access to Boston/Route 1 and is just five minutes to Logan International Airport.