Combined Properties, Inc. Renews Sherwin Williams on Mystic Avenue in Medford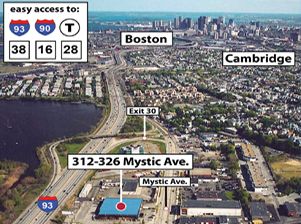 Combined Properties, Inc. is pleased to announce its recent renewal of Sherwin Williams Auto Finishes at 312 Mystic Avenue in Medford, MA.
Sherwin Williams Auto Finishes, occupying 5,670 square feet at 312 Rear Mystic Avenue, manufactures and distributes a complete line of advanced technology paint and coating systems for automotive and fleet refinishing industries.
The property, which totals 41,703 square feet on Mystic Avenue, is also home to NorthEast Electrical Distributors, Johnstone Supply and Core Power Yoga.
"The properties in our Medford portfolio appeal to a variety of commercial users because they are highly visible, provide easy access to major routes including 16, 28, and Interstate 93, and are so close to Boston," said Greg Regazzini, VP, Director of Leasing for Combined Properties. "We are pleased that Sherwin Williams, Johnstone, NorthEast and Core Power Yoga continue to operate successfully at their Mystic Ave. location."  Added VP of Property Management, Paul Martin, "as owner operator of the property it is incumbent on us to deliver first class property management services so that our clients can focus on their growth.  We take that role seriously and are proud to continue our relationships with this fine roster of clients."
Additional spaces owned and managed by Combined Properties are available on Mystic Avenue including 8,775 square feet at 312-326 Mystic Ave and 5,087 square feet of office space at 278 Mystic Ave.  Each space offers excellent visibility, free on-site parking, and are just five minutes to downtown Boston and Cambridge. The properties are also in close proximity to Tufts University, MIT, Harvard, and other area universities.
Greg Regazzini, vice president and director of leasing for Combined Properties, represented the landlord in this transaction.