Combined Properties has entered into its construction phase for the development of a first class office building on the scenic Malden River. 295 Canal Street will offer a unique opportunity for businesses seeking quality and value. Only a 10-minute drive to Boston and Logan International Airport, and a 3-block walk to the M.B.T.A. Orange Line rapid transit, commuter rail and bus service, this property offers convenient access for commuters from all directions.
The five story structure will total 55,117 SF. Floor one will be comprised of 1,846 SF of office/retail and 26 covered parking spaces. Floor 2 will be 13,910 SF, floors 3-4 will be 14,366, and the 5th floor will total 10,029 SF. Each level will offer excellent window lines affording a bounty of natural light, beautiful water views and spectacular Boston skyline views. The property will feature a total parking ratio of 3.3 per 1,000 SF or 178 spaces with one loading dock.
Located adjacent to the project is the Malden Bike Path, also known as the Northern Strand Community Trail. This 9 mile community pathway stretches from the NorthShores finest beaches, through Malden, and onward to the banks of the Mystic River in Somerville. In addition to generous free parking, 295 Canal offers outstanding pedestrian accessibility to Malden's vibrant downtown retail and restaurants.
Learn more at www.295canal.com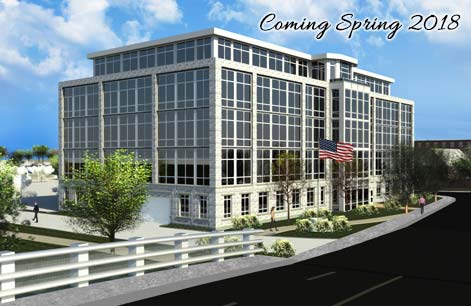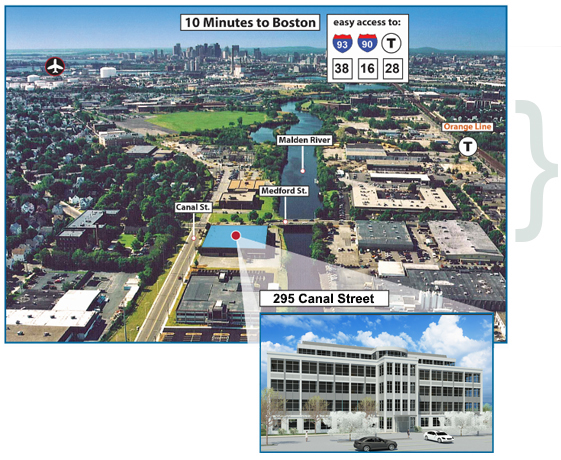 By Public Transportation:
The city of Malden is connected to downtown Boston by the MBTA rapid transit Orange Line, subway and communter rail. The Malden Center Station is just blocks from 295 Canal Street. Bus service to all adjacent communities is also available. Visit the MBTA's website here to see how easily you can get to and from 295 Canal Street.
By Car:
Routes 28, 60, 99, and U.S. 1 run through Malden. Route 16 and Interstate 93 are a short distance outside the city's borders.
By Plane:
Boston's Logan International Airport is less than 10 miles from 295 Canal Street.